About BNUTS40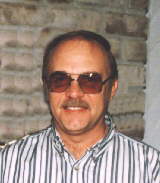 Welcome to my Web Pages
The pages contained within this site have been created for your enjoyment. I am a person of diversified moods and interests and want to share these interests and feelings in the form of some of my favorite photos and internet links. Many of these photos are my own, as I am a naturalist who enjoys photography. Some of these photos are provided by other photographers and organizations with credits and links to their respective web pages. As these pages are updated, I will continue to add only material that can be rated as "Family Content".
Credits
Anything that was acquired on the internet will have credits and /or links provided. Feel free to save anything that I've created on these pages for your own use. Just please let me know the address that the material will be used on and provide a link to my home page if you wouldn't mind.
If you wish to use any material displayed with a copyright, you must seek permission from the owner of the material. The links are provided with their photos.
**************************************************
These images are in NO WAY meant to gain credit for anything that is not of my own creation.
**************************************************
If you see a photo that you wish to be removed, or that you wish to be credited for, please E mail me at bnuts40@hotmail.com and I will be happy to remove the photo from this site or provide any credits or links due .
My Backgrounds
The backgrounds for these pages that I have created are composed of a minute portions of natural photos or scanned objects that I've taken and mirrored to themselves to produce the background effect. I think the finished background effect can be astounding ! Be sure to check out my Backgrounds Page.
My Photography
I have enjoyed photography for some years now. Having always enjoyed the outdoors I have been an avid hunter in the past and I continue to support hunting when conducted within the law and when preservation of our wildlife is observed. My own interests however shifted from hunting to natural and wildlife photography about ten years ago. With the arrival of my daughter a few years ago, I'm no longer able to devote as much time to the outdoors as I use to. However I still manage to get my camera out in the field occasionally and I'm pleased that my daughter enjoys the outdoors, camping and seeing critters as I do.
I still do most of my shooting with a Cannon AE-1, (To you younger photographers; that's a camera that still requires manually focusing and winding - it's operated by an internal steam engine.) and an assortment of lenses acquired when time and money were more plentiful in my life.
This has been a most rewarding hobby for me, and I encourage anyone that has ever thought about wildlife and natural photography to try it. A bit of time and patience can produce some satisfying results.
Visit my LINKS page for some great internet links and sound file downloads.
Please sign my guest book or feel free to drop me a line. I'd love to hear your comments or suggestions.